Buddies of New Jersey, Inc,
IS PROUD
to be allowed to serve everyone in our community and every color of the rainbow…
This bulletin is to honor gay pride month in a time of social distancing. Included are some dates and events that are worth knowing about, some pride activities, educational opportunities, sexual health resources,and recognition of LGBTQIA+ accomplishments.
May we follow the lead of our Founder, Franklin A. Smith who was proud to be able to provide support, services and resources for people living with and affected by HIV/AIDS before there was even a penny provided to do so. I am so proud of Frank as well as others, both LGBTQIA+ Persons and Allies, because of the kindness and generosity given so that others may have life and live it with dignity.
FROM SUNDAY JUNE 7th
THE ANNUAL JERSEY PRIDE CELEBRATION
has been moved to October 22nd provided we are able to do so
PRIDE FLAG RAISING | Thursday June 18th
10AM @ the Harrsison House &
2PM @ the Gazebo of the Bergen New Bridge Medical Center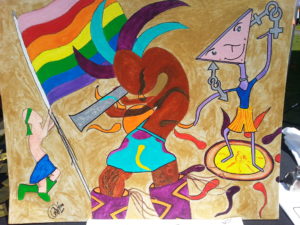 Supreme Court finds federal law bars LGBT discrimination in workplace
Two of the court's Republican appointees joined the court's
Democratic appointees to deliver the surprising, 6-3 victory to LGBT advocates.
THE OCEAN GROVE HEALTH RETREAT IS SLATED TO BE CHANGED
and unless we have a safe way to do so in person…
the plan is for VIRTUAL RETREAT October 28th to 31st
ENDING WITH A HALLOWEEN MIXER ON 31st more info. TBA.
CLICK to see if you can be a part of this: HERE
Newark Pride planned for July 19
https://newarkpride.org/pride–festival/newark-events/
Jersey City Pride Still Planned for August
——————————————————-
EVENTS, LINKS, ITEMS OF INTEREST
PRIDE MONTH – Right now many organizations are rearranging themselves to change schedules. We had to cancel our annual participation in Jersey Pride next weekend, as well as the Ocean Grove Health Retreat, and other events in the foreseeable future. Event cancellation does not mean we should cancel or postpone LGBTQIA+ Pride in any way, just how we normally celebrate it. So, be creative celebrate this JUNE, GAY PRIDE MONTH as you see fit.
30 DAYS OF PRIDE HERE is a brief consideration and 30 DAY GUIDE of how we can all celebrate PRIDE in a different, deep way.
FOOD DISTRIBUTION – SATURDAYS JUNE 13th and 27th, in addition to our current schedule, we are making food and essential items available to the first 500 families. ANYONE IN NEED IS WELCOME to come with a NJ State ID or DL, a face mask, and being able to follow social distancing guidelines.
CLICK HERE to view/print flyers in Spanish and English.
Let's Talk About Risks WEBINAR SERIES
Eric Cabrera from Buddies of NJ will be the profession guest speaker
during our highlighted discussion on Stage-based Counseling Strategies.
We'll see you NEXT Wednesday, June 10th from 11am-12:30pm
BLACK LIVES MATTER is a slogan that Buddies of New Jersey embraces and can profess whole hardheartedly! Please stay safe and avoid behavior that can increase the spread of COVID-19 or hurt others as we proudly express this core belief.
GAY PRIDE SURVEY – How Do We Celebrate Pride
DONAY'S HILLWALKERS – Donay, the salsa instructor from 2019 Kickoff Party for the NJ AIDS WALK, is starting a group of people who will do modified hill-walking at their own pace on Sunday Mornings in Bergen County. For more information, contact: Donay Wilford <donaysfitness4u@gmail.com>
GAY PRIDE FUN QUIZZES at quote tv
TRANS LIFE – CLICK HERE to find out about groups in your area. PATHWAYS meets at Buddies of NJ when covid restrictions are not in place.
VIRTUAL SPEED DATING at SELF SUPPORT GROUP | Monday – June 29th
We will try a virtual speed dating … questions will be fun … but will also help us practice how to discuss difficult topics with a potential partner. SIGN UP HERE
HIV COMMUNITIES FEEDING OTHERS IN NEED – Read this article from TheBody Magazine featuring our own Xio Mora-Lopez. CLICK HERE
https://www.njbuddies.org/wp-content/uploads/2020/06/unnamed.jpg
794
1181
Events Committee
https://www.njbuddies.org/wp-content/uploads/2019/06/logo.jpg
Events Committee
2020-06-05 14:27:13
2020-06-15 16:50:54
HAPPY PRIDE