Everyone at Buddies of NJ, Inc. thanks our supporters.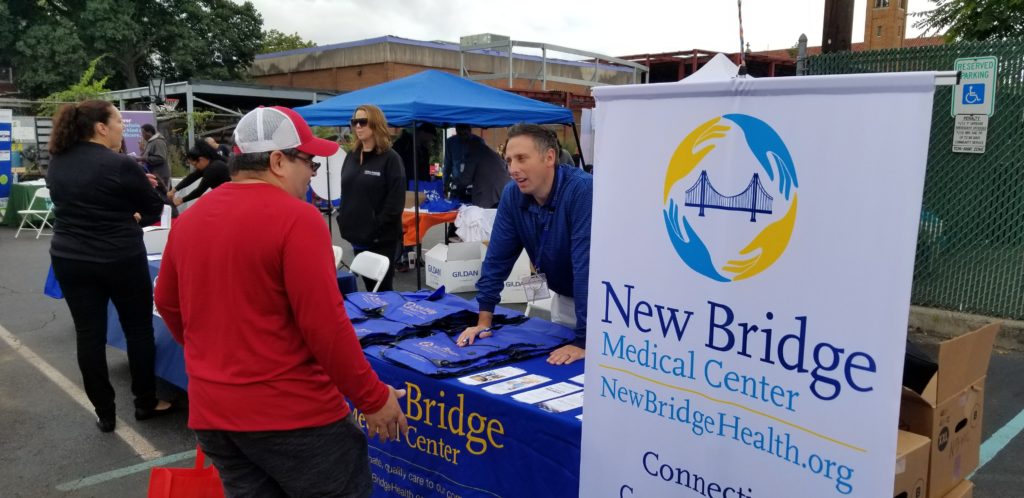 Buddies is our name because of who we were to others. We gave time, care, and energy to people who had not much of it.   It hurts to see family members, friends, and young community members die… often alone. Buddies and those who supported them made the difference in lives. Many of us vowed … and will not stop fighting until this epidemic is over and there is a cure.
Things are better today because of the work you help us do. We have learned how to lower the community viral load, halt the progression of HIV to AIDS, and lessen the rate of new infections in NJ. More importantly we daily work to restore the dignity in each of the lives we serve.
Please support our "Buddies" and those who contribute to what we are doing at Buddies of NJ, Inc. It's not easy giving time and time again when results still seem distant. Those who support us see our vision and help give hope to those we serve. There is still a way to go and we appreciate you being at our side!
Special Thanks To Our Funding Grants & Major Contributors:
Ryan White Care Act
HOPWA
The State of NJ Department of Health HIV, STD and TB Services
County of Bergen
Special Thanks to Supporters and Donors to our Food Bank
Special Thanks to Those Who Donate Clothing and Living Essentials for Clients
Special Thanks to Following Churches & Groups Who Donate Meals to the Harrison House
Special Thanks to the New Jersey AIDS WALK, Inc. and Buddies of NJ local NJAW Sponsors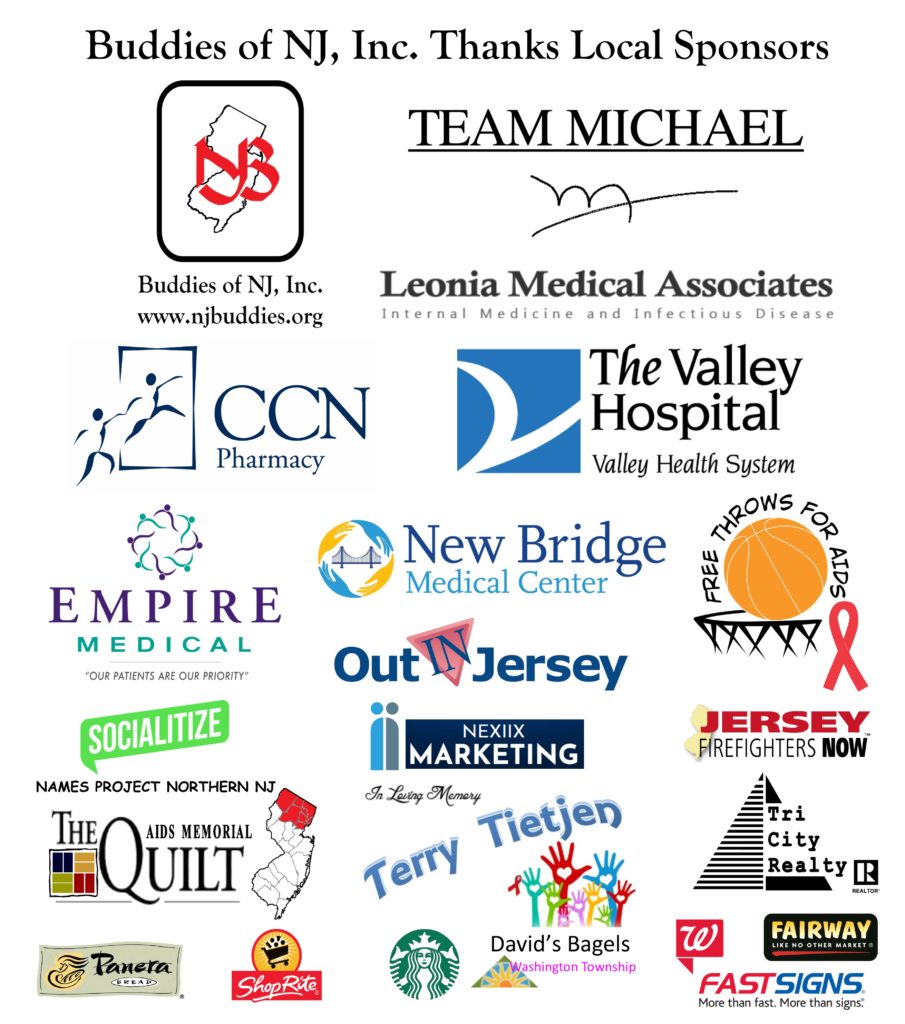 A Special Thank You To Our Grant Funding Sponsors:
Ryan White Care Act
Bergen/Passaic Paterson Planning Council
HOPWA
Special Thank You To Our NJAW State Sponsors:
Janssen
Gilead | ViiV
Walgreens
Merk
A Special Thank You To Our NJAW Local Sponsors:
New Bridge Medical Center
Leonia Medical Associates
the Valley Hospital
Coordinated Care Network (CCN Pharmacy)
Nexiix Marketing
Free Throws for AIDS
Northern New Jersey Names Project
Starbucks
Jersey Firefighters Now / NJBlueNow
Out In Jersey Magazine
Starbucks
TriCity Realty
Team Michael
Thanks to All Who Donated, Volunteer, Walked Throughout the Years Supporting the New Jersey AIDS WALK:
2016 Kickoff Stars; Ada Toro; AIDS Walk Participants ; Alex Robles ; Alexus Vivas; alicia torres; All Staff ; Allison Cobb; Ana Muñoz ; Andrew Carson; Andrew Cohn; Ann Swann; Anthony Scullion; Arraceli Serrano; Ashley Black; ashley castro; Ashley Catala; Assemblywoman Connie Wagner ; Au Bon Pain ; Balady ; Barbara Johnson; BARRY GOLDBERG; Bart Sciano; Bergen County Parks ; Bergen Pride ; Bergen Regional Medical Center ; Bernard Murren; Bernie Murren ; Bob Scheuermann; Bob Sorbanelli ; Buddies Benefactor ; Caitlyn Scheuermann; CANNAN Food Network ; Carolina melo; Carpe Diem Deloitte ; Catherine Savva; CBS-FM ; Charlotte Tobias ; Chauncey Moses Jr.; Chelsea O'Koren; Cheyenne Malone; Chris Scheuermann ; Chrissy Porochniak; Christina Kopala; Christine O. Wade; Churches ; Cooperating Agencies ; County of Bergen; Courtney Alvarez; Daniel Esposito; David Cimillo; David's Bagels ; Debbie Mosley ; Debbie Mosley; Deloitte ; Delvin Grullon; Deshan Reeves; DJ Case & Point – DJ Collin ; Donna Nelson-Ivy; Donnalee Corrieri; Dr. Gary Munk ; Dr. Glenn Ritter ; Dr. Tim Eustace ; Dr. Todd Jolly ; Duyen Pham; Dylan Ellis; Edible Arrangements ; Ellen Risbarg; Emil Vitale ; Epoch Press ; Fair Lawn Athletics Club ; Firewaters ; Fr. Mychal Judge's Walkers ; Francine Menaker; Francisco Ocasio; Greg Seegers; Hackensack University Medical Center ; Heather Borchers; Hector Rosado; Hector Santos; Holy Name Medical Center ; Hooters ; Hyo Jung Kim; Hyslip Design ; IGBO NY/NJ ; Isabelle Katri; Islam Attia; Jack DeLuca Gross; Jacquese Williams; Jahsiah Little; Jaime Rios; Jamal John; James Scheuermann; James Ward; Jamie Romano; Jamie villafane; Jared Khan; jasmyra ortiz; Jason Sorger; Jeff & Karen Acoustic Duo ; Jeff Scott; Jerry C Dillard; Jersey Firefighters ; Jesus Son of God; Jim Bumgardner; Jim Theberry ; Joanna Pedalino; Joe Gonzales & Family; John Spanedda; John Welsh; Jose Sendon; Julia Welsh; Julie O'Brien ; Justin Ryant; Kathleen Menaker; Kathy Kleinow Lebron; Kim Swiney; LeA Robinson ; Levi Corallo; Linda Williams; Lisa Edmiston; Logan Moses; Lorenz Qose; Lorice Awad; Luis Reyes, Jr.; lynette murry; maria elescano; Maria Luisa Soria; Marie Hill ; Marie Hill; Mario Irogoyen ; Marion T Brady; Mark Anderson ; Mark Anderson; Mark Avila ; Marlen Fransaco; Martin Gilbert ; Maryann Collins ; Massage Envy ; Mathew Granuzzo; mayra garcia; Meaghan Reinhart; Meryl Surgan; Michael Edmiston; Michael Pedalino; Mike Knapp; Mohsin Khan; NAMES Project Foundation – Northern NJ Chapter ; Nancy Nieves; Natalie DaCosta; Natalie Davila; Nicole Nicholson; Nicole Rosario; Osvaldo Cruz; Pat Bain ; Patricia Sayers; Peter Spanedda; Qamar Smith; Quashawna Moses; Ramy Elhabashy; Ray Welsh ; Raymond Welsh; Retro Fitness ; Richard Miles; RoseMary Klie; Roxana Vasquez; Ryan Belisle; Samantha Csaszar; Schools ; Sean O"Connell; Sepalda Jewelers ; Seung Yoo; Sky Moses; Starbucks ; Stephen Hartner; Steve Galvin ; Steve Johnson ; Susan Larkin; Susan & Emil Vitale ; Taylor Rago; Team Michael ; Team Steve ; The Amazing Kenneth & Sophie ; The Loft at the Riverside Manor ; Timothy Thomas; Tony Simmons; Trudy's Hot Dogs ; Tyler Hagenson; ViiV Healthcare ; Vincent Lombardi ; Volunteers ; Waleska Taylor; Walgreens ; Walgreens District 107 ; Walgreens Ramsey; Wayne Cesa; Wayne Ferguson; Website Beacon ; Whole Foods ; Wilson Rodriguez; Wolke Chiropractic ; Yudelis Nunez; Zaierra Moses;…