Today,an estimated 1.2 million people are living with HIV in the United States;
Thanks to better treatments, people with HIV are now living longer—and with a better quality of life—than ever before. If you are living with HIV, it's important to make choices that keep you healthy and protect others.
Doctors care, along with supportive services, has proven to keep the virus in check and undetectable more often than medical protocol by itself!
Please email Carolina Santana: carolina@njbuddies.org for an appointment with a case manger who will introduce you to all the services available now and/or in the future that can make you maintain a healthy life.
HIV Statistics in New Jersey
Prevalence Rate by County of Persons Living with HIV/AIDS 2018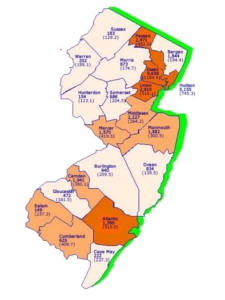 Note: Top number indicates number of persons reported currently living with HIV/AIDS (HIV Positive Infection or AIDS) as of 12/31/2016, based on most recent data on patient residence available in HARS. Not Included in this number are cases of Perinatal HIV Exposure that are not confirmed HIV Positive. Bottom number in parentheses indicates prevalence rate of persons living with HIV/AIDS per 100,000 population (July 1 2018 estimate).