One Day – One Cause – Five VIRTUAL SITES:  RIDGEWOOD  serves people living in Bergen/Passaic Counties
New Jersey AIDS WALK 2020
#VIRTUALNJAW2020
Serving the People of
Bergen & Passaic Counties
Dear Supporter,
We hope you and your loved ones are staying safe and healthy during this time.
As a part of the NJ AIDS Walk family, we want you to know that our priorities are to keep everyone – including you – safe; we have made the decision to not hold the NJ AIDS Walk 2020 event in person.  The NJ AIDS Walk board has decided that instead of a physical event we will transform the NJ AIDS Walk into a VIRTUAL EVENT!
NJ AIDS Walk registrants will be provided with a virtual walk media kit containing tools needed to participate.
Following local and federal health guidelines participants are encouraged to create and share their own NJ AIDS WALK posters, video messages, photos, while taking their own personal walks. Go LIVE on your social media outlets and share with us #VirtualNJAW2020BPH (Bergen|Passaic|Hudson)
We'll be extending the walk from May 1 – 3, 2020. This will not only give everyone ample time to safely participate, it will give us the opportunity to share a special 3-day photo and video documentation of the Past, Present and Future of our fight against HIV/AIDS. We'll be posting items all throughout this time, including all of the amazing things you're doing as supporters! Don't forget to 
LIKE (LOVE!), SHARE, POST and CLICK
 on our virtual efforts!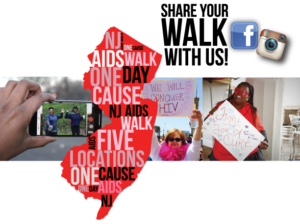 Please register at 
www.njaidswalk.org
 or one of the individual agency sites* to download the NJ AIDS walk Virtual media kit and register to participate. Registration is Free!
www.njaidswalk.org
Since the inception of the NJ AIDS Walk, 10 years ago, we have raised more than $2 Million to support HIV/AIDS services in New Jersey. Your continued support is the key to the success of Ending the HIV Epidemic. Today we need you now more than ever as we help our clients and communities, this very moment, navigate through the COVID-19 Pandemic!
If there is any community that has the strength, the will and the passion to fight the current COVID-19 pandemic IT IS US!
We are doing everything we can to support our communities NOW! We have front-line staff making sure people receive life sustaining food and crucial medication. Staff are on call, operating from home by phone and internet providing community wellness checks, support that ensures people are able to stay in their homes safely. Via telemedicine our professionals are available to provide mental health and substance use services, while others are assisting with housing referrals and handling case management to ensure health services continue.
Support for this free event can take many forms. Each of us has a role to play. For some it will be using social media talents and skills, for others it will be making sure we remember all the loved ones we've lost. And for others who have the means, please consider making a monetary donation. Every contribution, in any form counts and is appreciated.
Once again, on behalf of the entire NJ AIDS Walk team, we thank you for your patience and understanding. Please feel free to reach out to us with any concerns or questions, and please keep yourself, your family and your community safe and healthy!
Remember, if there is any community that knows how to get through this, it's us! 
WE ARE ALL IN THIS TOGETHER!! STAY JERSEY STRONG!!! 
https://www.njbuddies.org/wp-content/uploads/2020/03/NJB-VIRTUAL-IMAGE.jpg
750
1050
Events Committee
https://www.njbuddies.org/wp-content/uploads/2019/06/logo.jpg
Events Committee
2020-03-15 18:16:06
2020-04-15 14:53:04
10th Annual New Jersey AIDS WALK [VIRTUAL] MAY 1ST through 3RD 2020