teams up with Walgreens  to bring FREE HIV TESTING and
confidential results in <20 minutes.

Walgreens – Elmwood Park at the corner OF BOULEVARD & ROUTE 4 (BROADWAY)
Walgreens

Store #6161 | 

100 BROADWAY | 

Elmwood Park

,

NJ

07407 | 

201–796–0204 | Directions
TUESDAY – WEDNESDAY – THURSDAY
June 27, 28, & 29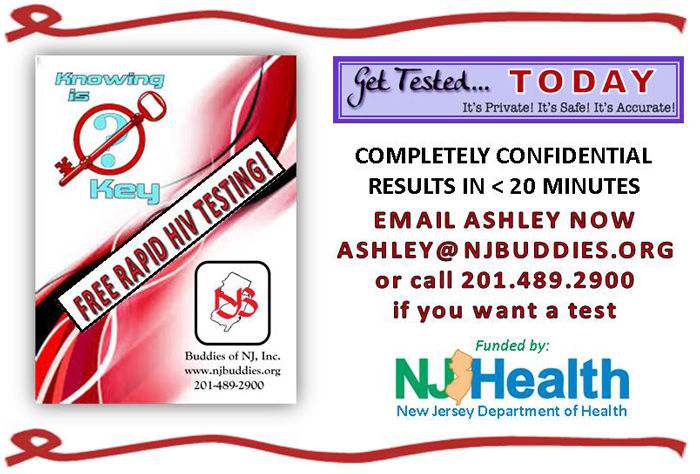 T-SHIRTS, PRIZES & MORE to Celebrate taking aciton to know our HIV Status & Stay Healthy
  BECAUSE WE ARE > AIDS             ASK Eric ABOUT PrEP 1-Pill/day to prevent HIV   
  GET TESTED                              Is PrEP a way for me to stay HIV(-) ???
  text Eric at 201-696-6009 to find out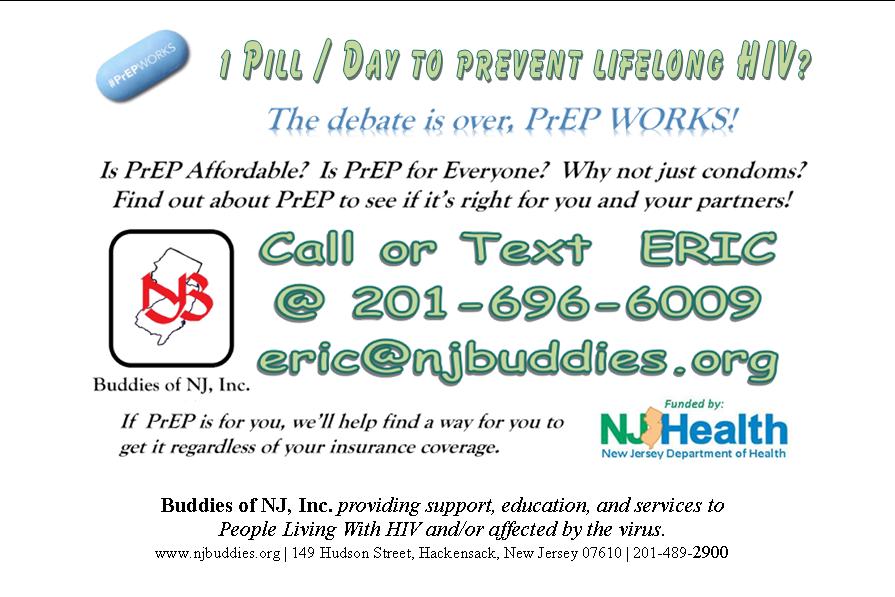 Buddies of NJ in Hackensack (201-489-2900) offers
– In A Safe Culturally Competent Environment:
FREE
/ CONFIDENTIAL RAPID
HIV TESTING 
FREE
PrEP
Evaluation, Counseling & Competent Prescriber Linkage
           PrEP is one pill per day which prevents HIV when used as prescribed.
                     SEE IF IT'S RIGHT FOR YOU!
Tuesday, April 18, 2017 (All day) NTHTD is a day to recognize the importance of routine HIV testing, status awareness and continued focus on HIV prevention and treatment efforts among transgender people.
---