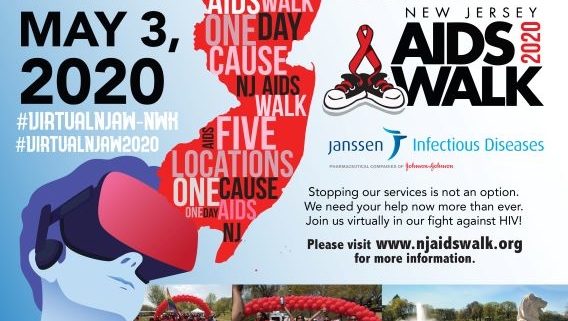 One Day – One Cause – Five VIRTUAL SITES:  RIDGEWOOD  serves people living in Bergen/Passaic Counties
Dear Friend,
We send an abundance of encouragement and solidarity to do all that is necessary to be safe, sound and productive. These times are uncertain and are causing destructive anxieties.  It is our wish that you will all cease the opportunity to create quality time with your loved ones. Keeping appropriate distance does not mean emotional and social isolation. LOVE is also contagious SPREAD COMPASSION when you can!
As a member of our New Jersey AIDS WALK family, we want to stay in contact with you. You are, and have always been, the reason we provide for the communities here in New Jersey. Your wellness is vital in our continued efforts to serve the most vulnerable. We are cooperating fully with our state, county, and professional health officials to halt the spread of COVID-19 without ending any of the most essential services which include food, medication, medical services, housing, as well as other supportive services by phone and internet.
NJAW is a collaborative of high quality organizations seeking ways to provide some of the care that grants no longer cover. We were all here in the 80's and were the model of how to be compassionate even with uncertainty in our midst. We learned, and taught, universal precautions and ways to care for all… not just the people we like. That's what community is and that's what Americans are!
The New Jersey AIDS WALK falls toward the end of most time frames of restriction for public gatherings, it is responsible that we have converted this to a virtual event that will occur on Sunday, May 3rd. We are working on the details of this virtual form and will provide them to you as soon as they develop.
The New Jersey AIDS WALK 2020 will continue to be a means of gathering support for those living with HIV/AIDS and a way toward eliminating stigma and phobias that will help End the HIV Epidemic in NJ and keep us prepared to tackle other ills such as this new COVID-19 pandemic.
We will be keeping you informed of any provisions to keep our continuity.  All decisions will be informed by what is most essential for community wellness. Our member agencies: Buddies of NJ (Bergen County); NJCRI (Newark), NJAS (Morris County), the Center (Asbury Park) and SJAA (Atlantic City) want to let you know that we here for the entire community at this time. Let us know how we may honor your faithful support in the community and/or for your individual needs.
Meanwhile, continue to develop your teams that will help us in this most crucial time.  And we will work toward a day when when we will actually enjoy each other's physical presence once again.
Learn more about the New AIDS Walk at njaidswalk.org
For More Information, Contact Ray Welsh at ray@njbuddies.org
CALL ANYTIME IF YOU NEED HELP at: 201-489-2900, or 201-290-1539.
Event Details
Please join Buddies of NJ, on May 3RD to raise awareness and funds for those living with and/or affected by HIV/AIDS.
Due to COVID-19 THIS IS A VIRTUAL EVENT  –  More Details to Come
http://www.njbuddies.org/wp-content/uploads/2020/03/virtualNJAW-njb-web.jpg
439
568
Events Committee
http://www.njbuddies.org/wp-content/uploads/2019/06/logo.jpg
Events Committee
2020-03-15 18:16:06
2020-03-28 22:48:23
10th Annual New Jersey AIDS WALK [VIRTUAL] MAY 3RD 2020